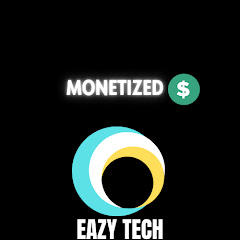 Description:
𝐓𝐡𝐢𝐬 𝐜𝐡𝐚𝐧𝐧𝐞𝐥 𝐄𝐚𝐳𝐲 𝐓𝐞𝐜𝐡 𝐢𝐬, 𝐅𝐔𝐋𝐋𝐘 𝐦𝐨𝐧𝐞𝐭𝐢𝐳𝐞𝐝 𝐫𝐞𝐚𝐝𝐲 𝐭𝐨 𝐞𝐚𝐫𝐧 𝐜𝐡𝐚𝐧𝐧𝐞𝐥 𝐚𝐧𝐝 𝐬𝐨 𝐲𝐨𝐮 𝐜𝐚𝐧 𝐬𝐭𝐚𝐫𝐭 𝐦𝐚𝐤𝐢𝐧𝐠 𝐦𝐨𝐧𝐞𝐲 𝐟𝐫𝐨𝐦 𝐟𝐢𝐫𝐬𝐭 𝐮𝐩𝐥𝐨𝐚𝐝 , 𝐘𝐨𝐮 𝐡𝐚𝐯𝐞 𝐭𝐨 𝐜𝐨𝐧𝐧𝐞𝐜𝐭 𝐀𝐝𝐒𝐞𝐧𝐬𝐞 𝐚𝐜𝐜𝐨𝐮𝐧𝐭 𝐨𝐟 𝐲𝐨𝐮𝐫 𝐜𝐨𝐮𝐧𝐭𝐫𝐲 𝐭𝐨 𝐫𝐞𝐜𝐞𝐢𝐯𝐞 𝐏𝐚𝐲𝐦𝐞𝐧𝐭𝐬 𝐟𝐫𝐨𝐦 𝐘𝐨𝐮𝐓𝐮𝐛𝐞. 𝐋𝐢𝐯𝐞𝐬𝐭𝐫𝐞𝐚𝐦 𝐚𝐧𝐝 𝐨𝐭𝐡𝐞𝐫 𝐜𝐡𝐚𝐧𝐧𝐞𝐥 𝐟𝐞𝐚𝐭𝐮𝐫𝐞𝐬 𝐚𝐫𝐞 𝐞𝐧𝐚𝐛𝐥𝐞𝐝. 𝐈𝐭'𝐬 𝐚 𝐠𝐨𝐨𝐝 𝐜𝐡𝐚𝐧𝐧𝐞𝐥 𝐰𝐢𝐭𝐡 𝐚 𝐩𝐞𝐫𝐟𝐞𝐜𝐭 𝐫𝐞𝐚𝐜𝐡.
𝐂𝐡𝐚𝐧𝐧𝐞𝐥 𝐢𝐬 𝐟𝐮𝐥𝐥𝐲 𝐜𝐮𝐬𝐭𝐨𝐦𝐢𝐳𝐞 𝐚𝐛𝐥𝐞. 𝐘𝐨𝐮 𝐜𝐚𝐧 𝐜𝐡𝐚𝐧𝐠𝐞 𝐭𝐡𝐞 𝐜𝐚𝐭𝐞𝐠𝐨𝐫𝐲, 𝐧𝐚𝐦𝐞, 𝐥𝐨𝐠𝐨, 𝐜𝐮𝐬𝐭𝐨𝐦 𝐧𝐚𝐦𝐞 𝐞𝐭𝐜. 𝐍𝐨 𝐚𝐧𝐲 𝐜𝐨𝐩𝐲𝐫𝐢𝐠𝐡𝐭𝐬 𝐨𝐫 𝐬𝐭𝐫𝐢𝐤𝐞𝐬.
𝐖𝐡𝐲 𝐘𝐨𝐮 𝐂𝐡𝐨𝐨𝐬𝐞 𝐓𝐡𝐢𝐬 𝐜𝐡𝐚𝐧𝐧𝐞𝐥 𝐈𝐟 𝐲𝐨𝐮 𝐧𝐞𝐞𝐝 𝐚𝐧𝐲 𝐬𝐮𝐩𝐩𝐨𝐫𝐭 𝐚𝐟𝐭𝐞𝐫 𝐩𝐮𝐫𝐜𝐡𝐚𝐬𝐞 𝐖𝐞''𝐥𝐥 𝐝𝐨 𝐛𝐞𝐬𝐭 𝐭𝐨 𝐡𝐞𝐥𝐩 𝐲𝐨𝐮 𝐬𝐨 𝐤𝐢𝐧𝐝𝐥𝐲 𝐝𝐨𝐧'𝐭 𝐡𝐞𝐬𝐢𝐭𝐚𝐭𝐞 𝐭𝐨 𝐜𝐨𝐧𝐭𝐚𝐜𝐭 𝐢𝐟 𝐲𝐨𝐮 𝐡𝐚𝐯𝐞 𝐚𝐧𝐲 𝐪𝐮𝐞𝐬𝐭𝐢𝐨𝐧𝐬
Monetization enabled: yes
Ways of promotion: Through digital marketing campaigns
Sources of expense: You don't need expenses it's a great asset.
Sources of income: Google AdSense
To support the channel, you need: Only Quality content is needed to support the channel
Content: Unique content
Nobody has posted any comments on this listing yet.